I am filled with frustration today as I sit down to write this post. And I am warring within myself between trusting in God's heavenly timing and demanding action and accountability from people here on earth. So I am going to start by being thankful for the good things that happened today.
We found Frosted Flakes at the store. Real Frosted Flakes. And this is Joel's honest reaction when he saw the boxes that we brought home for his breakfast.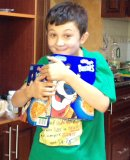 We had a wonderful day today as a family. Lots of quality time together. We even got a little bit of attitude from Levi when we told him he couldn't play with Scott's phone anymore. Yes, right now we are thankful for attitude. Because that means he is feeling more comfortable with us. Remind me of this later when I am dealing with his mischievous nature.
And we finished our day with a stop for dessert. Our kids love being able to order anything they want when we go to a restaurant. At home, my wonderful and frugal husband has rules about not ordering soda or desserts when we go out to eat. Also, all children are required to order from the children's menu. Here in Ethiopia, all the rules are out the window because even if our children ordered the most expensive meal possible, it would probably not cost more than $5. And dessert? Anything is fair game! Here is Hannah with her dessert. Pure joy!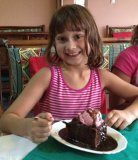 Okay. Now that I have been thankful, can I be a complainer? I am so frustrated! I am trying to be very understanding of how things work here. I am trying to not think that my way is better than any other. I am trying to give lots of grace for language and cultural differences. I am trying!
But, when I am told something is going to happen and then time and time again it does not, frustration overwhelms me!
We have our court date scheduled for this Friday at 2:00pm. And barring a miraculous intervention from God, we are not going to pass court. This means that our children will not be able to move out of the Transition Home and in with us.
The needed document (also known as the stinking document and the dreaded document) IS NOT HERE! In fact, it is not even completed yet! We are told that the court in Harar still needs more information before they will issue this document. And, once it is issued, it has to be sent to the Ministry of Women, Children and Youth Affairs (MOWCYA) to be reviewed. For 10 days!!!! And only then will we pass court.
Of course, we were not told any of this last week when we were assigned our court date. So it was slightly devastating to hear it this week. I had pinned my hopes on this Friday as being the day we finally, officially become a family.
I am writing this post because I could really use some prayer. Prayer for my heart and my attitude. Prayer that God might miraculously intervene and we would pass court this Friday. Prayer for peace.
Here is an excerpt from my prayer journal entry from this morning….
Lord I pray for this week and all the unknowns. They are unknown to us but not to you! You are the author! You have only our best in mind. You have only the best planned for Naomi, Abigail, Micah and Levi. Help me to be willing to see that and not want my way. But Lord, I ask and beg that we would pass court on Friday. I plead my case in your throne room. I knock over and over again so that you would grant me that which my heart desires. Pave the way. Smooth the path. Remove the obstacles. Make us a family!
And then tonight, when I re-read that entry and flipped my prayer journal closed I saw the inscription on the front page.
Be still and know that I am God.
I am trying. Oh Lord, I am trying.
Blessings!
Natalie
PRAYER REQUESTS
*That we would pass court!
*That the document would be completed tomorrow!
*My heart
*Naomi